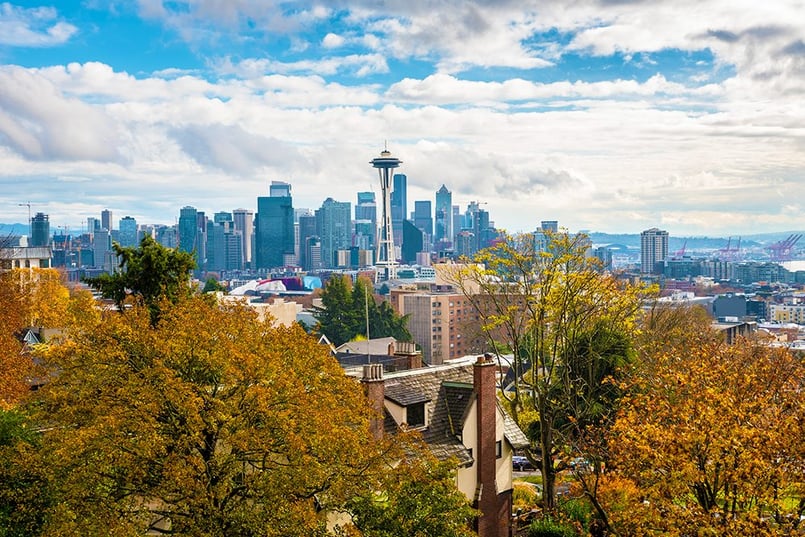 SMARTCAP RESEARCH – OCTOBER 2023 NEWSLETTER
Cushman & Wakefield Brokers Sale of 150-acre Industrial Site in Longview, WA

Cushman & Wakefield recently facilitated the sale of a significant 150-acre industrial development site in Longview, WA, strategically located near the Port of Longview on the I-5 corridor. Cascade Civil Development, an Oregon-based company known for habitat restoration and construction services, is the new owner, having purchased from Weyerhaeuser.

Representing both sides of the deal were Cushman & Wakefield's Aaron Watt, Keegan Clay, and Michael Flynn, who will also oversee leasing and disposition for Cascade's future projects on the site. Though official plans remain under wraps, Cascade has permits ready for grading, paving the way for potential development of nearly 2 million sq. ft. of industrial space.

The land, positioned between Portland and Seattle, offers prime connections to major market metros and benefits from a robust rail and high-capacity utility infrastructure. Aaron Watt highlighted Longview's advantageous location and its business-friendly environment, complemented by the presence of leading industrial firms and retail establishments.

With around 35,000 residents, Longview stands as the most populous city in Cowlitz County.
Commentary from Dominic Vinti, SMARTCAP's Senior Acquisitions Analyst:
A 150 acre parcel of land has traded in Longview, WA. Cascade Civil Development has acquired the industrial dirt, which has permitting in place to begin developing new industrial product shortly. The acquisition shows a further push north for big box industrial development sites. Due to the urban growth boundary in Portland and a warehouse moratorium in Clark County, WA, viable industrial development sites have been hard to find in the greater Portland area. Longview, located about an hour from Portland & two hours from Seattle, has the opportunity to produce approximately 2MM SF of logistics space along the I-5 corridor.
Pokemon Co. Eyes Major Office Space in Downtown Bellevue's Tower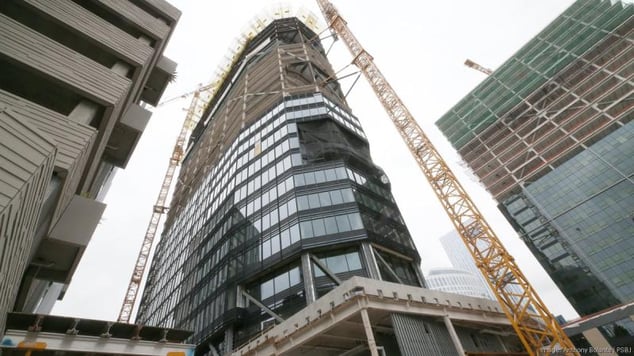 Pokemon Co. International is rumored to be considering a significant lease in the under-construction 25-story office tower, "The Eight," by Skanska USA in downtown Bellevue. Sources suggest the company might take up over 56% of the 540,000-square-foot tower, approximately 300,000 square feet. While neither Pokemon nor Skanska confirmed the lease, Pokemon remains committed to the Bellevue business scene. The Eight's launch is keenly anticipated, with several tenant announcements expected soon. Pokemon's expanded presence could provide a lift to Bellevue's office market, which has seen Microsoft Corp. retract from the city. Other Bellevue occupants, Amazon and Meta, are also reassessing their real estate strategies, but companies like Bytedance, TikTok's parent, are increasing their footprints.
Commentary from Spencer Esau, SMARTCAP's Acquisitions Manager
Pokemon Company International is on the verge of taking 300,000 SF in Skanska's new office development, "The Eight". With this lease, 90% of the 7.7 million square feet under construction on the Eastside will be preleased. While the Eastside is experiencing a challenging office environment, new construction continues to be absorbed at a high rate. This dynamic should ease pressures commonly associated with an overbuilt market. Pokemon Company International is a subsidiary of The Pokemon Company, responsible for managing and licensing the Pokemon brand outside of Asia.
US Industrial Market Update: Q3 Insights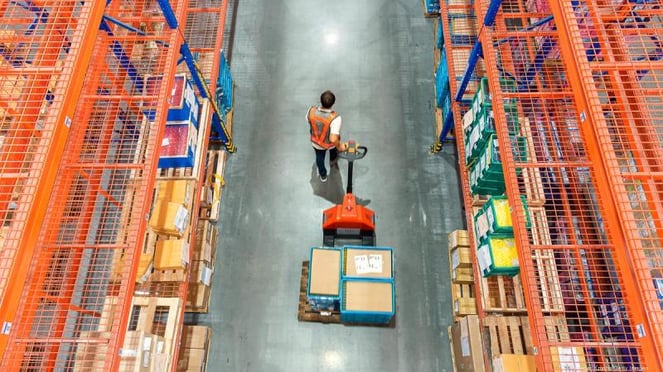 The U.S. industrial vacancy rate increased to 4.7% in Q3, a rise from 4% the previous quarter and 3% from a year ago, due to a surge in construction and a decline in leasing activity.

A record 171.8 million sq ft of industrial space was delivered in Q3, marking a 19.6% quarterly increase.

Sublease space saw a minor quarterly increase of 9.3%, now totaling 139 million sq ft, reaching an all-time high.

The main contributor to the vacancy rise is the fresh influx of construction. However, Q3 still experienced a net absorption of 46.2 million sq ft nationally.

New leasing activity dropped to 125 million sq ft in Q3 from 193.9 million sq ft in Q3 2022.

Following post-Covid growth, the industrial market has seen a slowdown. Development starts declined by 68% YoY, hitting a five-year low, primarily due to rising interest rates and challenges in obtaining financing.

Predictions suggest national vacancy rates may surpass 5% soon. Yet, the ongoing slowdown in construction provides an opportunity for market absorption by early 2024.

Despite the changes, rental rates persisted in their upward trajectory. Q3 rates stood at $9.73 per sq ft, slightly up from the previous quarter.

Federal initiatives like the CHIPS and Science Act aimed to revitalize U.S. advanced-manufacturing, but tangible results remain in the offing. This shift, although slow, is under watchful eyes across the sector.

High-ceiling logistics facilities remain in strong demand, with third-party logistics accounting for 25%-35% of this year's leasing activity.

Are we moving towards a manufacturing-focused market? Time will tell. For now, industrial dynamics continue to evolve.
Commentary from Dominic Vinti, SMARTCAP's Senior Analyst
Vacancy rates across the national average for industrial real estate rose in Q3. The National Vacancy Rate hit 4.7%, main drivers to the uptick in vacancy were increased number of warehouse completions and softening tenant demand. The high number of completions are due to the record number of construction starts during the low interest rate environment of 2020-2022. Current vacancy rates are still considered healthy and remain below the pre-pandemic levels. National vacancies are still expected to increase into 2024, but not reach alarming levels. We are beginning to see the end of the industrial construction binge, and industrial warehouse starts are down significantly in 2023. Even with tenant demand slowing in the near term, the lack of industrial completions in the medium term will create a balanced environment for tenants to absorb the completed spaces while allowing vacancy rates to moderate.
Cloudvue 2.0: Major Changes Proposed for Bellevue Skyscraper Project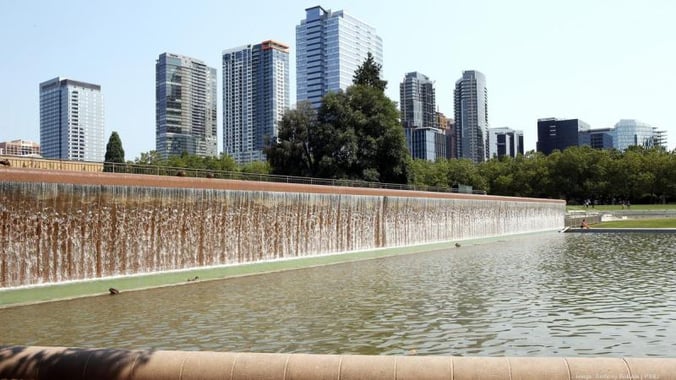 Cloudvue, a proposed three-skyscraper mixed-use development in Bellevue, is undergoing significant changes. According to recent submissions to the city:

The office towers are now being replaced with residential buildings.

The second tower will maintain a mix of hotel and residential spaces.

Originally, plans included 1.7 million sq. ft. of office space across two towers, along with 538 residences and 117 hotel rooms in a third tower. This update departs from that blueprint.

A proposed performing arts center, the Playhouse, will be replaced with a three-level grocery store near a new Amazon tower.

Stanford Development Director Jeremy Lui commented on the shift towards residential space, citing global economic conditions and changing living and working trends. He believes a supermarket aligns with residents' daily needs. This grocery store will feature a fitness center and office space.

Currently, over 25% of the Eastside's office space remains vacant, as per Broderick Group's report.

Details on the total number of residences in Cloudvue 2.0 and their sales strategy are yet to be disclosed.

The core development team, including renowned names like ZGF Architects and Weber Thompson, remains unchanged, with the addition of Mark G. Anderson Consulting.

Lui emphasized the project's overarching goal: to craft a dynamic mixed-use space for Bellevue's community
Commentary from Spencer Esau, SMARTCAP's Acquisitions Manager
The original plans for Cloudvue Bellevue included one of the largest speculative office projects in the history of the Eastside. The new plans indicate that all 1.7MM square feet of proposed office product is being shifted to residential. This about face is a critical development for the larger Eastside commercial real estate market. A substantial office delivery would have flooded the market with new product but replacing it with residential will instead serve to bolster the office market over the long-term.
SMARTCAP's Baker View Distribution Center Nears Completion: On Track for Jan 2024 Delivery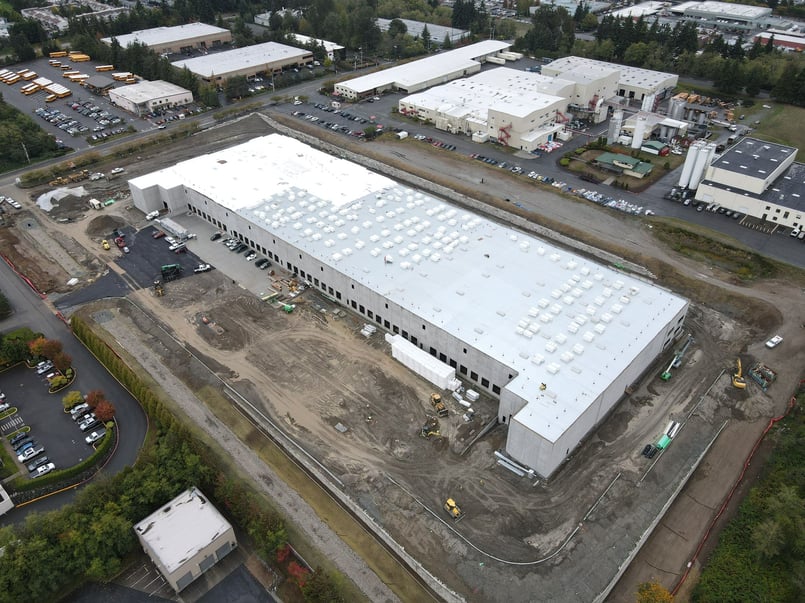 SMARTCAP's Baker View Distribution Center in South Everett's Seaway Industrial Park has hit the 60% completion mark, with key milestones achieved, including roofing system installation and full asphalt paving. These accomplishments reduce weather-related risks as the Pacific Northwest enters the rainy season. The premier 166,000-square-foot Class A distribution facility is on track for its scheduled delivery on January 23rd, 2024, with an aerial photo of the progress captured by a drone.
Commentary from Brian Burmester, SMARTCAP's Director of Acquisitions
Over the past several months, SMARTCAP has made substantial progress in the development of our Baker View Distribution Center (Baker View) located in the heart of South Everett's Seaway Industrial Park. As of October, the project has surpassed the 60% completion mark. Baker View, a premier 166,000-square-foot Class A distribution facility, has achieved significant milestones as we approach the Pacific Northwest's rainy season. Including the full installation and weatherproofing of the roofing system and the completion of the asphalt paving encompassing the entire building. These milestones are critical to the project as these improvements remove a significant amount of weather-related risk. Baker View is on schedule for its target deliver date of January 23rd, 2024.
TAGS: Musings