SMARTCAP RESEARCH – AUGUST 2023 NEWSLETTER
SpaceTech Boom in Washington: Redmond Rises as "Space District" with SpaceX Leading the Charge

The expansion of high-tech space manufacturing, particularly in Redmond and Kent, is evident, with companies like SpaceX contributing to the trend. SpaceX's Starlink operation, located in Redmond Ridge, has expanded with new buildings. The space industry, although a smaller part of the industrial leasing market, is growing quickly. Kent's "Rally the Valley" policy has resulted in over 2.5 million square feet of new construction, mainly catering to manufacturers, including Blue Origin and Stoke Space. Due to limited industrial space availability in areas like Redmond, Bothell, and Seattle's Sodo neighborhood, flexible floor plans for multiple tenants have become common. Startups use older spaces while larger companies aim for proximity to technical labor. SpaceX dominates satellite production for its Starlink network, contributing to the growth of the space sector, which directly employs over 13,000 in Washington. The growth led Redmond to declare itself a "space district." Consolidation in software and tech companies could provide more space for the expanding space sector.
Commentary from Dominic Vinti, SMARTCAP's Senior Acquisitions Analyst:
A new developing space sector in the Seattle area is driving growth in the industrial real estate market. Companies affiliated with or related to SpaceX, Project Kuiper, Blue Origin, and others are snapping up industrial real estate space in the Kent Valley and Redmond. The draw to Washington State is the proximity to the founder companies as well as the strong tech and aerospace presence the greater Seattle area already possesses. SpaceX leased two of the largest industrial spaces in recent memory for the Redmond submarket. The newfound industry is creating a demand for high tech research, development, and manufacturing with high credit tenants and plenty of growth opportunities. With the limited amount of industrial -zoned land and a growing appetite for industrial space in Redmond and the greater Eastside, a path for strong industrial rent growth and property valuations in the near and long term is a distinct possibility.
STAGT Industrial Acquires Beaverton Center for $20.6M: Prime Real Estate Amid Portland's 2.6% Industrial Vacancy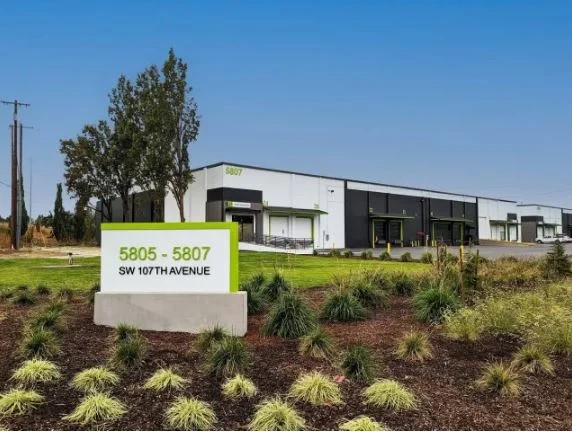 Cushman & Wakefield facilitated the sale of Beaverton Industrial Center, a recently renovated multi-tenant industrial complex in Beaverton, Oregon. The property comprises two upgraded distribution buildings spanning 121,426 square feet on around 6.4 acres. It was sold to STAG Industrial, a real estate investment trust, for $20.6 million (about $170 per square foot). The complex is fully leased to four tenants and is strategically located in the 217 Corridor/Beaverton submarket, which is highly favored by industrial tenants in the Portland area. The property's prime location provides excellent regional, national, and international access. The Beaverton/Highway 217 submarket has a strong demand, with the Portland Industrial market experiencing a low vacancy rate of 2.6% in Q2-2023.
Commentary from Spencer Esau, SMARTCAP's Acquisitions Manager:
The Beaverton Industrial Center received 12 offers and eventually sold to STAG Industrial, one of the largest industrial investors in the world. STAG's investment bodes well for continued institutional interest in Portland, a city which carries some of the tightest zoning and regulatory supply constraints in the country. Other large institutions like Prologis and DRA have also recently recommitted to the submarket. While the office market in Portland continues to struggle, industrial has not recognized any of the same adverse effects. This is primarily due to the exceptional supply and demand imbalance in the industrial sector. The property transacted at a 5.6% cap rate which is reasonable for 1966 vintage in Beaverton. Older assets typically recognize significant cap rate expansion relative to new construction.
Boeing to Resume 777X Production Early Amid Regulatory Concerns; Reduces Delay Costs to $1 Billion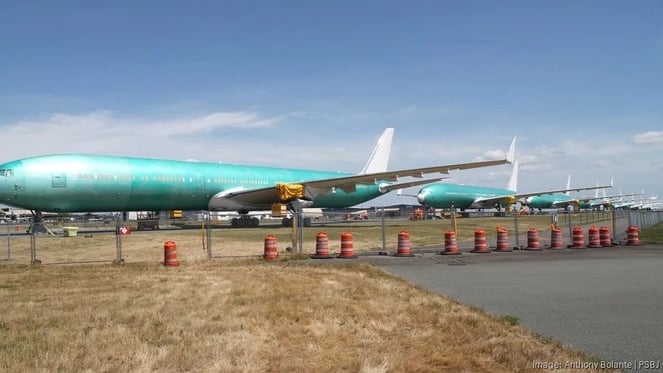 Boeing plans to resume production of the 777X planes earlier than expected later this year. However, the company has expressed concerns about potential risks to its backlog of orders if regulatory approvals are delayed. Boeing remains confident in the regulatory process but acknowledges that further delays could lead to order cancellations or backlog reductions for the 777X, 737 Max 7, and Max 10 programs, as well as the delivery of 737 planes to China. The company aims to restart 777X production in Everett by the end of 2023, ahead of its initial plan for next year, with estimated delay costs reduced to $1 billion. Boeing currently has 318 confirmed 777X orders, representing significant potential revenue. The first 777X jets are expected to be delivered in 2025, followed by a freighter variant in 2027.
Commentary from Dominic Vinti, SMARTCAP's Senior Acquisitions Analyst:
Boeing announced the resumption of production for the 777X jets in late 2023, while also hinting at possible hurdles to regulatory approval. The production of the 777X could mean an uptick in manufacturing tenant demand in the North End as Boeing's vendors and other upstream partners could begin reaping the benefits of the resumed production. This, however, does not come without risks as regulatory delays of the 777X, 737, Max 7, and Max 10's programs could lead to a reduction to the order backlog or significant order cancellations. Backlog reductions and order cancellations could lead to an inverse effect on upstream partners in the North End. Manufacturing tenant demand could be in for some short term volatility while one of the region's largest economic drivers works through regulatory headwinds to deliver jets and reduce their backlog of orders.
SMARTCAP & Amstar Celebrate Progress at Baker View Site; On-track for Upcoming Wall Tilt in Everett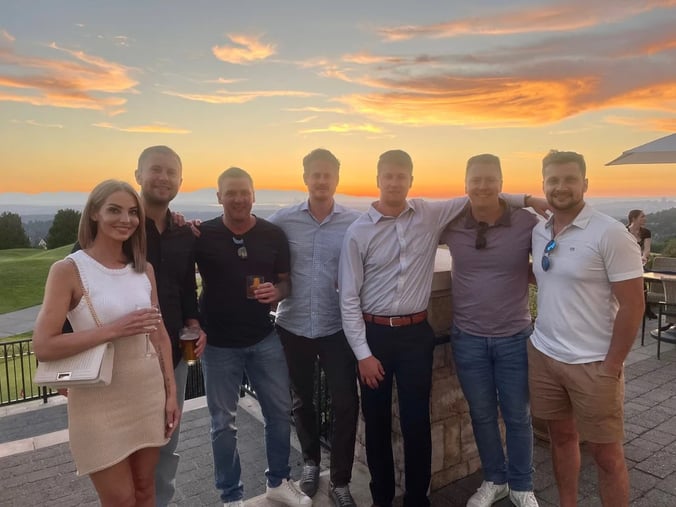 What an exciting day for the SMARTCAP, Inc. Investments team as we welcomed our joint venture partners from Denver, Amstar, for a fantastic tour of the Baker View site in Everett! The project has been progressing remarkably well, and we are just days away from the highly anticipated wall tilt. The day began with an educational and informative OAC (Owner-Architect-Contractor) meeting, where we had the opportunity to collaborate and exchange ideas with many involved in this development. As we embarked on the site tour led by GC Sierra Construction Company, Inc., it was incredible to witness the progress made so far. The site was buzzing with activity! The construction is right on schedule, and we couldn't be more proud of the dedication and expertise displayed by the entire team. After an enriching day on the site, we wrapped up the evening at the picturesque Newcastle Golf Club, where we were treated to stunning views of Lake Washington, Mt. Rainier, the Olympic and Cascade Mountains, and the iconic Seattle skyline. It was the perfect Pacific Northwest way to end a wonderful day with Amstar! At SMARTCAP, we firmly believe that successful partnerships and collaborative efforts are the key to achieving exceptional results. This journey with Amstar has been nothing short of incredible, and we are excited about the future of the Baker View project.
Commentary from Spencer Esau, SMARTCAP's Acquisitions Manager:
From the outset, our goal for Baker View was to develop a best-in-class industrial distribution building in a core submarket. We are well on our way towards accomplishing that goal. Our team has been hard at work, regularly hitting construction milestones with precision and dedication. We've made it through the highest risk phases of the development, and we're excited to begin tilting walls and subsequently installing the roofing structure.
This is the point where the vision is realized, and the building begins to take shape. We're also nearing the period where tenant interest will begin to ramp up. We're committed to maintaining our momentum and delivering another successful industrial building in Snohomish County.
TAGS: Musings